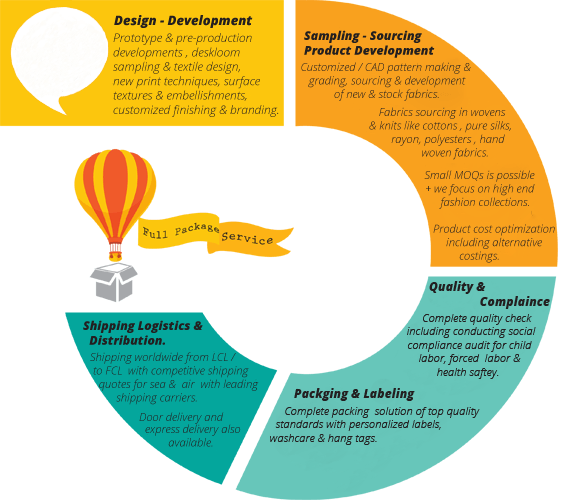 Fashion Maker International is an apparel buying and sourcing agent from Bangladesh that are sourcing and supplying a complete range of apparel and textile products –from fiber to fashion across the geopolitical boundaries.
Since our inception in 2007, Fashion Maker International has grown from a small team of starters to strategic sourcing professionals. As a reputed organization Fashion Maker International is the right sourcing solution for the buyers striving to receive the best service possible.
We have a strong vendor base across Bangladesh; we as sourcing agents have gained the experience over the years and carved a niche for ourselves in this field to serve our buyers better. We believe in constantly enriching our portfolio to provide unmatched quality of service.
We believe in a professional and true approach towards our buyers. Our business methodology is based on principles of synergy and co-ordination. With our strong business associations with our country's best manufacturers and exporters dealing in a wide variety of products, we bring the choicest range of products to our buyers offering them the best of designs, quality and prices.
Our mission is to create an ethical, sustainable and eco-efficient textile & apparel industry.
In order for our customers to focus on their core businesses, we strive to be their leading value-added supply chain management partner. We are committed to providing our customers the best quality products and cost effective services in apparel & textiles
At FMI, our vision is to be Bangladesh's most reliable apparel sourcing company.
To do this, we have established a culture of thorough understanding of your requirements, following high-quality standards in sourcing and delivering on time. We are committed to actively seeking and building long-term partnerships with the best manufacturers and following socially and ethically sustainable business practices.
As a company policy, we believe in living and practicing internationally approved business ethics and norms that distinguish Globe from its counterparts.
Values – honesty, integrity and human dignity, besides ethical approach in engagements with all connected stakeholders; customers, suppliers, employees etc, remain close to our hearts resulting in our hard earned reputation and success.